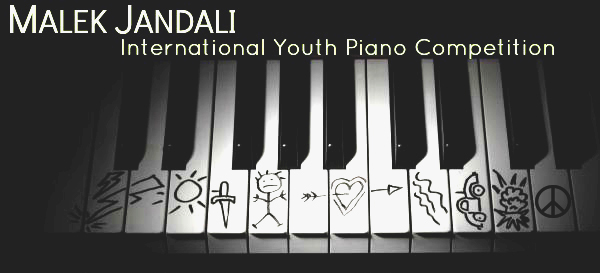 Application and video deadline: 25 November 2017
Announcement of Grand Prize Winner: 20 December 2017
Cash Grand Prize $500 – Live in Concert at Carnegie Hall
Dear Friends,
I am happy to announce the launch of the 2017 Malek Jandali International Youth Piano Competition, open to pianists around the world of any nationality up to 18 years of age. In addition to receiving a cash prize of $500 the young grand prize winner will be awarded the opportunity to perform at my Carnegie Hall concert in New York City.
This year we have selected "Eid" as the required piece. Applications with online video submissions are due no later than November 25, 2017 and the winners will be announced on December 20, 2017. All qualified talents are encouraged to participate and apply. The joy of your journey to showcase your talent to the world begins with a single note!
In harmony,

2016 Winners
Grand Prize
Michelle Emily Qiu, 11 (USA)
Second Prize
Merry Liu, 17 (USA)
Third Prize
Samia Farah, 16 (USA)
Honorable Mention
Great Young Performer Award
Ward Laham, 8 (Syria)
William Drebitko, 11 (USA)
2015 Winners
Grand Prize
keona Lim-Rose, 14 (USA)
Second Prize
Amira Knani, 14 (Tunisia)
Leila Chelbi, 16 (Tunisia)
Third Prize
Ahmed Mohamed, 18 (Egypt)
2014 Winners
Grand Prize
Fathia Ismail, 10 (Tunisia)
Second Prize
Mai Khalife, 14 (Syria)
Third Prize
Selim Khamessi , 12 (Tunisia)
Prizes
Cash Grand Prize $500.00, Second Prize $300.00 and Third Prize $150.00
Perform Live with Malek Jandali at Carnegie Hall in New York City
Additional Special Awards and Honorable Mention
Instructions
Complete and submit application form
Select a solo piano work by a composer from your country of origin
Download the required piano composition score from our "welcome" e-mail
Record and upload a video of your best live performance of both works FROM MEMORY
Name the video "Malek Jandali Piano Competition – Name of work – Your Name"
Send the video link via e-mail to agent@malekjandali.com
Good luck and have fun!
Entrance Fee: $50.00