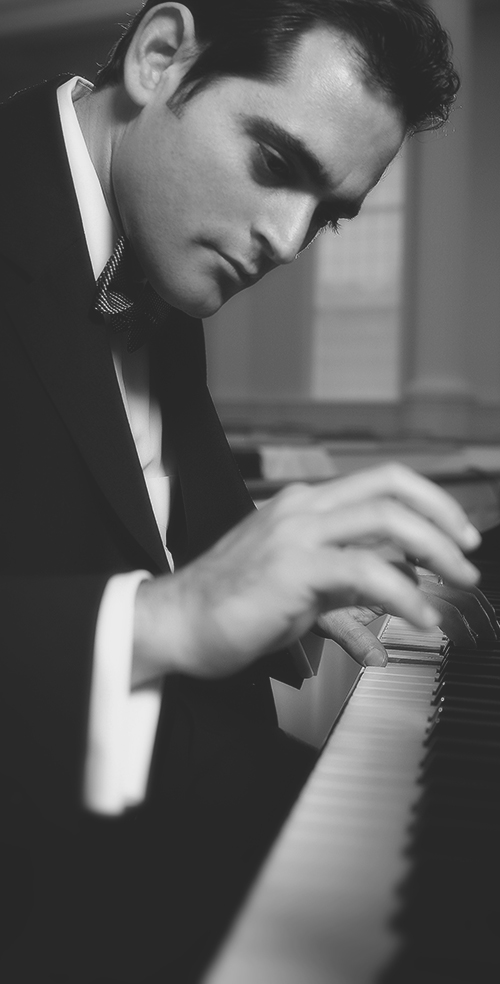 Biography

German born, Syrian-American composer and pianist, Malek Jandali, is recognized as a leading figure in today's piano world. His outstanding recordings and extensive concert tours receive abundantly glowing praise. Hailed by BBC WorldNews as "an acclaimed pianist", his music has been described as "heart-rending melodies, lush orchestration, clever transitions and creative textures." by American Record Guide, and "Inspiring" by the Huffington Post. His musical career as a concert pianist began in 1988 after winning the first prize at the National Young Artists' competition followed by the 1997 "Outstanding Musical Performer Award" in the United States.
Jandali's hit album "Echoes from Ugarit" was recorded in Moscow with The Russian Philharmonic Orchestra and released in 2008. It includes original compositions based on the oldest music notation in the world discovered on a clay tablet in the ancient Mediterranean city of Ugarit. His 2012 album "Syrian Symphony" has received critical acclaim in major newspapers and is "a major new addition to the 21st century's symphonic literature." according to Fanfare Magazine.
Mr. Jandali was the recipient of the 2011 "Freedom of Expression" award in Los Angeles and was recognized in New York City with the 2012 Arab-American Cultural Achievement Award. He was honored with the 2013 GUSI International Peace Prize for his ongoing world tour "The Voice of the Free Syrian Children" and his dedication to peace and humanitarian causes. Jandals is the recipient of the 2014 Global Music Humanitarian Award and in 2015 the Carnegie Corporation of New York honored him as one of the Great Immigrants along with Yo-Yo Ma and Itzhak Perlman.
Malek's prolific compositions integrate Middle-Eastern modes into Western classical forms and harmony. They range from chamber music to large-scale orchestral works including concertos for violin and piano. His compositions have been performed by numerous leading orchestras such as the Royal Philharmonic Orchestra, The Stockholm Solister, the Russian Philharmonic Orchestra and the Cairo Symphony Orchestra. David Firman of the RPO describes Jandali's music as "gorgeous, haunting, yearning and full of hope, with a pain more personal than that of Tchaikovsky or Rachmaninoff."
His latest album "Syrian Symphony" was released on January 31, 2015 during his Carnegie Hall performance in New York City where he premiered the latest chamber works for piano, oud and cello. It has been described by Thomas Ludwig of the LSO as a "new symphonic mastery that was clearly not brought about only by a reaction to contemporary events, but also by sustained contact with the well-springs of polyphonic elegant music." His causes go beyond those of humanitarian activism, as he is regularly recognized by and invited to speak to key academic audiences at Harvard University, Duke University, and the United Nations headquarters in New York City.
Jandali's diverse career remains truly international, as he continues to captivate audiences in concerts throughout North America and Europe at such prestigious venues as the Kennedy Center, Wiener Konzerthaus, Stockholm Konserthuset, Nidaros Cathedral and the National Auditorium in Madrid with the Queen of Spain in attendance.
Malek currently resides in New York City and is a member of The Recording Academy and The American Society of Composers, Authors and Publishers (ASCAP). His music is published by Soul b Music and can be found on iTunes, CD Baby, Amazon and at Virgin Megastores worldwide.
This biography © 2016 by Malek Jandali. Any edited or altered use of their content without the express permission of Malek Jandali is prohibited.